Impromptu
Card

Magic | Ray Gamble Trophy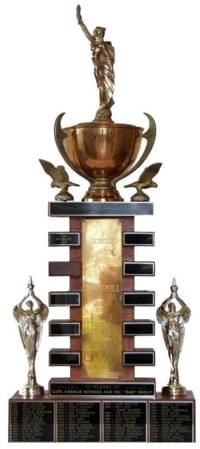 Donated by Ray Gamble, the Ray Gamble Trophy is awarded in recognition of excellence in impromptu card magic. The competitor must present a single effect using absolutely nothing except what is supplied. The Competition Chair will supply each competitor with a deck of cards, cellophane removed but the seal intact.
Competitors are responsible for opening the deck of cards in front of the judges. In order to keep this competition separate from other Vancouver Magic Circle competitions, any additional item introduced will result in disqualification. The spirit of this competition is to encourage growth in the fields of impromptu style card magic.
This competition is open to the Adult members of the club only.
For more information or to enter this competition, please contact our Awards and Competition Chairman, Yoosik Oum at 604-802-8909. Please note that you must register at least 24 hours in advance.
Please note: The Vancouver Magic Circle owns this trophy and it must be kept safe for its preservation. If you win this competition and can demonstrate a need for the physical possession of the trophy, please complete the Trophy Lending Agreement and submit it to the Executive Board. Qualification to borrow trophies ultimately lies at the discretion of the Executive Board and will be dealt with on a case-by-case basis at the following Executive Meeting or at the will of the Executive Board.
Previous winners include:
2010s
2010: Steve Dickson
2011: Lon Mandrake
2012: Billy Hsueh
2013: Phil Razon
2014: Chris Yuill
2000s
2000 - David Culos
2001 - Jeff McLeod
2002 - Jose Almenares
2003 - Matthew Johnson
2004 - Kelvin Ng
2005 - Alym Amlani
2006 - Cameron Fisk
2007 - Lon Mandrake
2008 - Rick Mearns
2009 - Henry Tom
1990s
1990 - Craig Peloquin
1991 - Shawn Farquhar
1992 - Brad Turner
1993 - Rod Chow
1994 - Murray Sawchuk
1995 - Eric Lenz
1996 - Shawn Farquhar
1997 - Dave Culos
1998 - Jeff Christensen
1999 - Donovan Atreides
1980s
1980 - Peter Barrett
1981 - Eric Lenz
1982 - Jack Poulter
1983 - Bill Lee
James Dimmer
1984 - Joe Araszewski
1985 - Not Contested
1986 - Jack Bastow
1987 - Tony Taylor
1988 - Ray Parker
1989 - Shawn Farquhar
1970s
1970 - Percy Easler
1971 - Ted Kingan
1972 - Don Lambertus
1973 - Percy Poole
1974 - Stu Lang
1975 - Ken Hughes
1976 - Percy Easler
1977 - Bob Masterson
1978 - Jack Mellor
1979 - Ted Kingan
1960s
1960 - Percy Poole
1961 - John Neilson
1962 - Not Contested
1963 - Steve Lett
1964 - Grant Gould
1965 - Ken Benoy
1966 - Harry James
1967 - Al Weir
1968 - Ian McLeod
1969 - Joe Lambertus
1950s
1955 - Jack Mellor
1956 - Not Contested
1957 - Hugh Dickson
1958 - Francis Martineau
1959 - Ernie Butler