The TipTop & Tootsie
Competition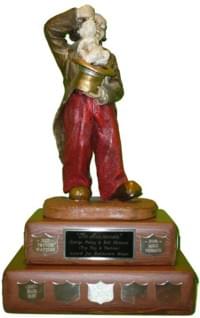 The TipTop & Tootsie trophy is awarded in recognition of excellence in Halloween Magic by an Adult or Junior Member. One trick or effect of a Halloween Theme must be performed within a 10 minute time limit. The spirit of this competition is to encourage growth in the field of Halloween magic. A favorite of George Patey and Bill Eliason, for whom the trophy is in honour of.
The trophy is named after a pair of aristocrat tramp characters "TipTop & Tootsie" created by Bill and George. The trophy top is a statue given to them by their good friend Doug Henning (Cousin of Magician Doug Henning) and donated by David Wilson, nephew of Bill Eliason. The base was donated by Craig Prystay.
Please read the General Competition Rules prior to participation in this contest.
For more information or to enter this competition, please contact our Awards and Competition Chairman, Yoosik Oum at 604-802-8909. Please note that you must register at least 24 hours in advance.
Please note: The Vancouver Magic Circle owns this trophy and it must be kept safe for its preservation. If you win this competition and can demonstrate a need for the physical possession of the trophy, please complete the Trophy Lending Agreement and submit it to the Executive Board. Qualification to borrow trophies ultimately lies at the discretion of the Executive Board and will be dealt with on a case-by-case basis at the following Executive Meeting or at the will of the Executive Board.
Previous winners include:
2010s
2010: Not Contested
2011: Brianna Carlson
2012: Amanda O'Leary
2013: Tony Chris
2014: Chris Yuill
2000s
2005: Trevor Watters
2006: Mike Norden
2007: Bruce Hunt
2008: Steve Dickson
2009: Henry Tom